What is M&T?
Monitoring and Targeting (M&T) is an energy management technique in which all plant and building utilities such as electricity, gas, and water are measured and monitored, enabling effective reductions in energy usage to be achieved.
Monitoring and Targeting solutions
Efficient Power Solutions' market leading eM&T solutions utilise Energy Smart Meters and sub-meters that gather consumption data for remote reporting and billing data; collating it in a dashboard and graphical format easily viewable on your PC, tablet or Smartphone.
Simple systems can give you a clear picture of a Building's baseloads and real-time energy usage characteristics accurately measuring base load and energy consumption trends, but by adding further sub-meters there is virtually no limit to the degree of detail that is possible to be measured, monitored and managed.
Pretty much whatever you wish can be measured with our eM&T technology whether it is electricity, gas, or water, and with sub-metering one can drill down to understand the real time usage down to individual equipment. And of course by being able to measure usage one can then effectively reduce it!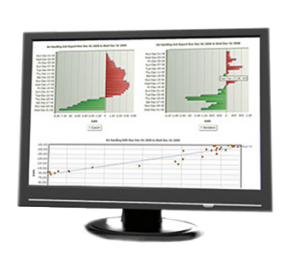 Functionality in M&T Systems vary and key is one that is simple to navigate, with clear usable reporting. How often have you heard of Companies investing in new systems only to hear that they have been little used because they have proved too complicated to set up and operate! e-fficient Energy's latest intelligent eM&T systems deliver energy reporting in a simple to understand dashboard format and has a market leading Excel report writing interface for simple management and reporting of the data.
The Monitoring and Targeting programs have proven to be so effective that they deliver reductions in annual energy costs between 5 and 20%.
Installing a simple monitoring and targeting (M&T) system enables energy usage to be accurately measured and managed, giving you the tools to reduce usage.  And Efficient Power Solutions' latest intelligent eM&T systems are remarkably cost effective and being viewed as more and more important in the armoury to reduce Energy consumption, helping Companies achieve their CRC targets, reduce their energy costs and reduce their carbon footprints.
Our eM&T Monitoring & Targeting system is a web based visual interface for all energy and utility consumption.
The technically leading system connects direct with Utility Meters, Sub-meters and Energy Meters via data cabling.  These elements are then connected to a data collector which sends the information to our remote server allowing the user access to their key information from any web portal.
To find out more about our monitoring and targeting solutions get in touch with us.