What is eVO+R™?
eVO+R™ Voltage Optimisation plus Regulation systems maximise the opportunity for you to save energy by intelligently optimising your incoming voltage to the most efficient level.
Unlike other Voltage Optimisation systems which typically employ step down transformers to reduce the incoming voltage by a set amount – for example 4% or 6% – the eVO+R™ Voltage Optimisation plus Regulation system optimises and regulates the incoming mains voltage and maintains it at the desired set point, typically 220V.  The output voltage can be varied on-load at 1V increments to suit the exact needs of your building.
eVO+R™ systems typically generate up to 30% greater savings in electricity usage when compared to step down transformer systems – maximising your savings opportunity.
eVO+R™, with its unique independent phase Buck and Boost technology, increases resilience against over-voltage and under-voltage from the supply network. A regulated and managed voltage can eliminate problems caused by brown-outs and voltage spikes.
Download the eVO+R™ data sheet here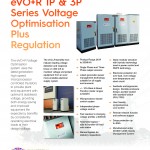 Find out how our eVO+R™ Voltage Optimisation plus Regulation system has helped Spire Hospital reduce energy costs.
Where is eVO+R™ used?
eVO+R™ technology is being installed across the UK and worldwide in all building types including industrial sites, hotels, hospitals, shopping centres, cinemas, education establishments, and government departments.
What makes eVO+R™ different?
efficient Energy's  eVO+R™ Voltage Optimisation plus Regulation system is the world's technical leader in Voltage Management, delivering maximum energy savings combined with intelligent control and regulated voltage, through our unique Buck & Boost technology.  The eVO+RTM is the only Voltage Management system to be fully compatible with an increasingly unstable supply grid.
Fixed reduction voltage optimisations systems on the market offer no protection from a fluctuating grid.  Other 'dynamic' voltage optimisation suffer from either slow response times, often up to 10 seconds, or trip into a bypass state.
eVO+R COMPARED TO ALTERNATIVE SYSTEMS.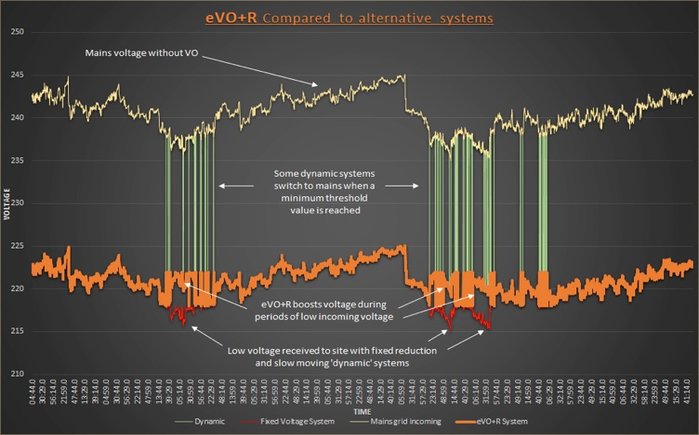 What is buck & boost?
The eVO+R™ Voltage Optimisation plus Regulation system has an intelligent Buck & Boost facility which boosts the voltage if the incoming mains voltage drops below 220V.  What this means is that irrespective of grid voltage, our technology will safeguard your electrical equipment and maximise the savings possible. Most other systems on the UK market trip over into bypass or track the mains voltage negating the benefits of Voltage Optimisation systems and introduce risk to your site.